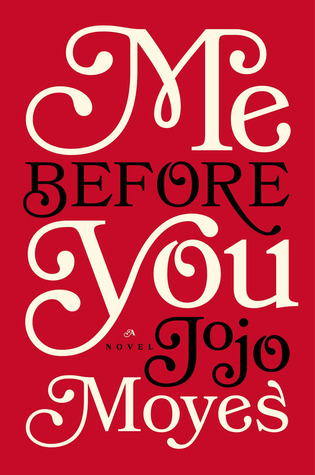 Title: Me Before You
Author: Jojo Moyes
Published: 2012/12/31
Genre: Contemporary Fiction
Started: 2017/10/24
Finished: 2017/10/25
Rating:  ★★★★★
---
Synopsis
Louisa Clark is an ordinary young woman living an exceedingly ordinary life—steady boyfriend, close family—who has never been farther afield than their tiny village. She takes a badly needed job working for ex-Master of the Universe Will Traynor, who is wheelchair-bound after an accident. Will has always lived a huge life—big deals, extreme sports, worldwide travel—and now he's pretty sure he cannot live the way he is.
Will is acerbic, moody, bossy—but Lou refuses to treat him with kid gloves, and soon his happiness means more to her than she expected. When she learns that Will has shocking plans of his own, she sets out to show him that life is still worth living.
A love story for this generation, Me Before You brings to life two people who couldn't have less in common—a heartbreakingly romantic novel that asks, What do you do when making the person you love happy also means breaking your own heart?
---
My Thoughts
I have had this on my shelf for a while but finally read it on the road trip back home from my sister. From what I see on Goodreads this is one of those books you either love or hate. For me it was love, perhaps if I'd taken longer to read it and think about it that would be different but this was finished within a two day span for me.
I knew within a few chapters I was going to cry at some point and I have to say I hate to be right. I was a sobbing mess, I won't go into details for those who haven't read this yet but this book pulled out all the crazy emotions and I was extremely invested in the outcome.  So much so that I actually read the sequel today, which will have it's own review later.
In some ways this book felt rushed but I think it's understandable because there is a set timeline in this book. There are sensitive subjects in this book (rape, assisted suicide) so if that's something your not okay with then I'd say avoid this book but I did enjoy the discussions on assisted suicide in this book.  It's something that pains me to even think about but I respect that opinions are challenged.
Has anyone else read this?  I'm pretty sure I'm going to read more of her books ❤