This was a roller coaster of a read… Dang… Just keep reading… SPOILERS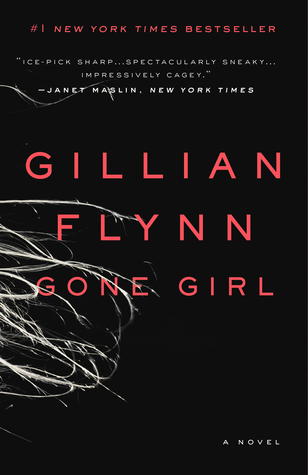 Title: Gone Girl
Author: Gillian Flynn
Published: 2014/04/22
Version: Paperback
Started: 2017/04/07
Finished: 2017/04/09
Rating: 
Goodread Synopsis: On a warm summer morning in North Carthage, Missouri, it is Nick and Amy Dunne's fifth wedding anniversary. Presents are being wrapped and reservations are being made when Nick's clever and beautiful wife disappears. Husband-of-the-Year Nick isn't doing himself any favors with cringe-worthy daydreams about the slope and shape of his wife's head, but passages from Amy's diary reveal the alpha-girl perfectionist could have put anyone dangerously on edge. Under mounting pressure from the police and the media—as well as Amy's fiercely doting parents—the town golden boy parades an endless series of lies, deceits, and inappropriate behavior. Nick is oddly evasive, and he's definitely bitter—but is he really a killer?
My Thoughts: This is another one of those books where I don't even know how to start. Reading through it was fine, I knew what I was going to say then I got to the end and it's like… Ugh… I…
I fell for Diary Amy. I hated her at first and liked the husband. Then Diary Amy matured and was sweet, she tried, blah blah… And Nick just became a jerk. Then they switched roles in my head! I liked Nick and hated Amy… And now that the book is finished… I don't even know what to think about either of them.
The set up was great. Everything was thought out. I really believed that Nick was going to hang. I can't even begin to imagine the psychotic mindset required to cut yourself to the muscle. Or imitate rape wounds with a bottle… I am a control freak, Type A and everything, I make lists, I plan, everything. I couldn't do that stuff. I also couldn't kill someone and just watch. Kudos to Flynn for creating such a freak. I still just don't know what to say. It was brilliant but, dang this book. I am speechless.
The characters were all great, the cops, the lawyer, the parents, neighbors, everyone was fleshed out so well even if they were only mentioned for a few sentences. You really got a feel for anyone that was introduced.
Flynn also made you sympathize or hate a character as she wanted you to. You did not want to like Nick, Amy was such a good person, her parents so loving and devoted, dad was crazy cakes, the cops bumbling but good ol' boys. It was so easy to think the way the author wanted me to. The writing was great in this way.
After I changed to liking Nick, I was shocked right along side him when he found out that Amy was best friends with the neighbor, I believed that she stayed home and sulked. I believed all of her lies right along with Nick. Now I am incredibly gullible, yeah I do fall for the whole there's a spider on the ceiling with the word gullible on his back, I really do. But I fell for everything Flynn wanted me to, hook, line, and sinker. Did you guys? Did you believe what you read? Or were you skeptical?
I almost wish there was a book two. I want Nick to kill or get away from Amy. I want to know what happens to the Happy Family. Does Nick remain a lap dog? Does Amy convince their son that daddy is a horrible person? What happens to Amy's parents? Do they die in some horrible accident contrived by their daughter? It just ends.
The only thing I will say I really didn't like was the language. Now I swear enough to make a sailor blush, but in the written word it just comes off as so much more powerful and shocking. Yes, it might be the way people talk normally (like daddy crazy cakes and how he refers to women) or what they say when angry (Nick and his capital C) but it was a bit much for me. Was it horribly crass, no but I would have preferred a bit less.
Give Gone Girl a try whether this is your type of book or not. You just need to read it. Was anyone else struck dumb upon completion? Did Flynn mess with your head? Tell me in the comments!