Title: Alpha Girl Series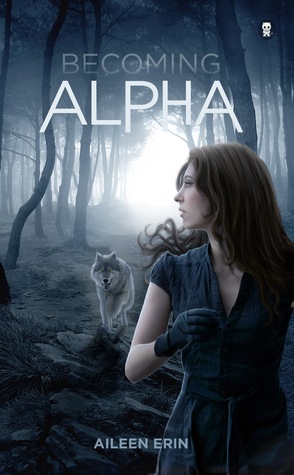 Author: Aileen Erin
Genre: YA & Paranormal Romance
Version: Kindle
Overall Rating: 3/5
Book One Synopsis: Tessa McCaide has a unique talent for getting into trouble. Then again, it isn't easy for a girl with visions to ignore what she sees. Luckily Tessa and her family are leaving California and moving halfway across the country, giving her the perfect opportunity to leave her reputation as "Freaky Tessa" behind.
But Tessa doesn't realize that kissing the wrong guy in her new Texas town could land her in far more trouble than she ever imagined. Like being forced to attend St. Ailbe's Academy, a secret boarding school for werewolves.
Even if the wrong guy did accidentally turn her into one of "them" and doom her to attending the weirdest high school ever, Tessa can't help her growing attraction to the mysterious Dastien Laurent.
When vampires attack St. Alibe's and her visions pinpoint an enemy in their midst, Tessa realizes that boy drama and her newfound canine tendencies might just be the least of her problems.
My Thoughts: This is a bit of a different review for me.  I've reviewed the first book (read here) and instead of reviewing each book after that I thought perhaps I'd review my overall experience with the series.  I don't know if I'll do things this way in the future or if I'll switch to reviewing each one as I read them.  Let me know what you'd prefer, I think I'd enjoy either route. I suppose I could do both.
Onto the books!  So first of all I should say this is a series of 6 books but I actually only read 4 of the books (1-3 & 5).  Why?  Because those are the books that follow Tessa, before I picked up book 4 I did check out the reviews and a lot of people said it felt very much like a standalone and you didn't really need it to understand what was going on.  I may go back at a future date to read them but I wish they had been removed from the series and just left as additional books in the world but standalones.  Book 4 should have either been Book # 1 for a new series that intertwines with Tessa's story or mayyybe book 3.5.  Book 6 sounds like it's a completely different story and the only connection is that its a character in the other books.  For sure this should have been a Book 1, this would also leave it open if she wanted to add more books to Merideth's story.  Plus neither of these two girls have Alpha personalities, it's supposed to be something unique about Tessa.
I did enjoy the series as a whole, I wouldn't say it's my favorite series but it's an easy read with a fun plot.  It kept me engaged throughout the books.  I loved the mix of characters and the mix of werewolves and witches.  I really love that Vampires are more zombie-like and not these beautiful creatures we've gotten used to as well.  This has a very linier plot from book to book (for those I read).  You need to read the prior one to understand what's going on and couldn't on a whim pick up book 2, 3 or 5 without being confused on what's going on.
So have any of you guys read this series? What did you think?