This week's theme is favorite book you are currently reading (if you only read one book at a time then this could be adjusted to favorite book you are reading or have read in the last couple weeks).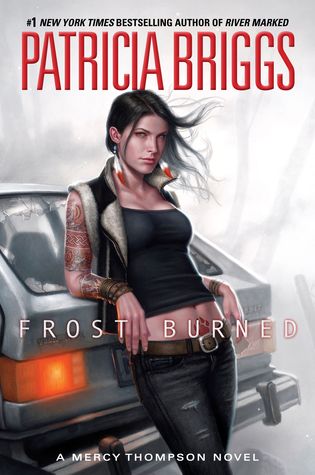 Kayla:  So I'm reading 5 books right now and I almost didn't let myself use this book since it's a re-read but it's still one of my favorites. Frost Burned by Patricia Briggs is the 7th book in the Mercy Thompson series. I think part of what I love about these books is that all the books connect but at the same time the stories are extremely different, however things that happen in earlier books still impact how characters act and don't suddenly just get forgotten.  Patricia Briggs is great with staying consistent.
Neko:
River Marked by Patricia Briggs
::falls out of chair laughing:: When I saw Kayla's pick I died. I am reading/listening to five odd books but I am blazing through the Mercy Thompson World like a meteorite! Love the characters, love the lore, love the writing style. Briggs is great and if you haven't given her a go yet get to it!
So what is your favorite that you are currently reading?
Next week's theme is Favorite Non-Fiction