Hey Book Nerds! Amidst our pillaging and plundering we found a new book! Arrgh what a treasure it was, it saved itself from walking the plank!
Last minute change on this.  We planned on reading Stalking Jack the Ripper but I flew through this book so fast that Neko was curious to read it and I was curious to see how she'd feel about this book.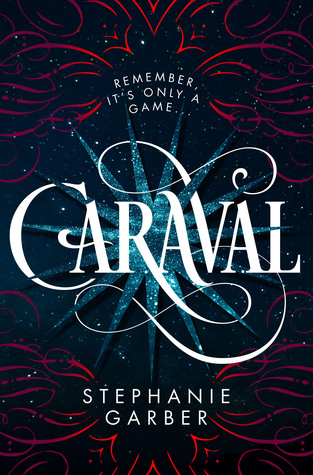 Title: Caraval
Author: Stephanie Garber
Published: 2017
Pages: 407
Synopsis: Whatever you've heard about Caraval, it doesn't compare to the reality. It's more than just a game or a performance. It's the closest you'll ever find to magic in this world . . .
Welcome, welcome to Caraval―Stephanie Garber's sweeping tale of two sisters who escape their ruthless father when they enter the dangerous intrigue of a legendary game.
Scarlett has never left the tiny island where she and her beloved sister, Tella, live with their powerful, and cruel, father. Now Scarlett's father has arranged a marriage for her, and Scarlett thinks her dreams of seeing Caraval, the far-away, once-a-year performance where the audience participates in the show, are over.
But this year, Scarlett's long-dreamt of invitation finally arrives. With the help of a mysterious sailor, Tella whisks Scarlett away to the show. Only, as soon as they arrive, Tella is kidnapped by Caraval's mastermind organizer, Legend. It turns out that this season's Caraval revolves around Tella, and whoever finds her first is the winner.
Scarlett has been told that everything that happens during Caraval is only an elaborate performance. But she nevertheless becomes enmeshed in a game of love, heartbreak, and magic with the other players in the game. And whether Caraval is real or not, she must find Tella before the five nights of the game are over, a dangerous domino effect of consequences is set off, and her sister disappears forever.
Our Thoughts:
Kylana: So first of all, I have to say I didn't have high hopes for this book. After my experience with Heartless, I was a little afraid that the hype behind this book was just good marketing.  Needless to say, I was pleasantly surprised.
Right away I was swept into the book, I loved how it starts with the letters and drifted into the story from there, it intrigued me and I think I ended up reading it over the span of 2 days. To me, this book felt very Alice in Wonderland meets Jumanji meets Hunger Games. The lack of world building which I know bothered some people, I actually felt was part of what I liked about this book, I was in this constant state of confusion trying to figure out with Scarlet what was going on. Poor Neko got all my IMs telling her how much I was enjoying it.  So many that now we're doing this review. 🙂
The dark themes in the book I felt both contributed well to the story and the characters. Scarlett and Tella are raised by an abusive father, which shows in their personality, they have matured in many ways but also been stunted in others. It does get a little rapey at one point and suicide is also brought up.  I personally felt it was done in a way that it contributed to the story without overwhelming but want to note since I know it can be triggering for some.
For me this book could have easily been a standalone and I almost wish it was but I'll be pre-ordering the second as soon as I can because I'm curious to see what happens next.
My rating 5/5. I think this is a book I could re-read and enjoy just as much the second time around.  Perhaps just before the next book.
Neko: Man where to begin! This book was so twisty and amazing! It was a real page turner that I also read within two days. Like Heartless the world was colorful and magical and very unique. While the story had a real Alice in Wonderland feel as Kylana said it didn't feel like she was borrowing from any source in particular. And the emotions! The emotions were even colorful which I think helped make them so much more vivid! As someone who has a very active imagination, and is driven by her emotions, it brought what Scar felt to a whole new level for me.
Another thing I really enjoyed was discovering the world along with Scar. Sometimes it helps the story along to have the whole world drawn out at the beginning of the story, like Lord of the Rings, but I think Garber did a phenomenal job keeping the reader surprised, it felt like the audience was traveling alongside the heroine.
I loved the darker aspect to the writing and all of the little nuances that made Caraval different from the real world, like payment methods. And while I do agree that this could have easily been a stand alone book, Garber wrapped so much up so nicely!, the epilogue really left me excited for the next book! Even if the continuations fall short of the first book we will always have Caraval to fall back on!
5/5 paws easily!  Go grab a copy if you haven't already and tell us what you think!
So how many of you guys have read this book! Anyone not like it? Tell us! We love discussing and debating what we read!